Water Quality
The Edge Of Field Monitoring Project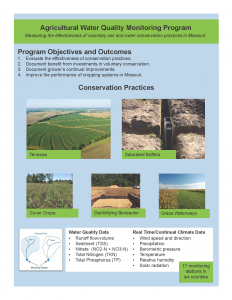 Missouri farmers and landowners have long made significant investments in soil and water conservation. In 1982, Missouri had the second highest soil erosion rate in the country. Over the last 35 years, the state's farmers have been aggressively working to preserve this valuable resource through conservation practices such as cover crops, conservation tillage, terraces and waterways. As a result, Missouri farmers have successfully reduced erosion and soil runoff by 50 percent – more than any other agricultural state in the nation.
Missouri farmers continue to work harder than ever to voluntarily reduce soil and nutrient runoff while building soil health and producing a quality crop. But efforts are now underway to quantify and verify the important benefits of these investments too. The Agricultural Water Quality Monitoring Program was started to help farmers and conservation specialists verify and improve the effectiveness of conservation practices and systems on Missouri farm fields. The scientific data collected will help document the gains from Missouri's long term investments in voluntary conservation.
Over a minimum of five-year span, the program will collect water quality data using automated edge of field water monitoring equipment to evaluate the relative quality and quantity of water runoff leaving crop fields during runoff events. Data and information is collected year round at real working farms operating with different conservation and management practices and within different agricultural regions.
This information can then be used by farmers to guide nutrient and soil management decisions on their farm to improve production efficiencies, profitability and overall sustainability. The results will also help growers, engineers and technicians better design and locate conservation practices within fields or at field edges.
This program is a collaborative effort of the Missouri Corn Merchandising Council and the Missouri Soybean Merchandising Council in partnership with the Missouri Department of Natural Resources and the USDA Natural Resources Conservation Service.
Download the water quality update.
Watershed Research, Assessment & Stewardship Project (WRASP)

The Watershed Research, Assessment & Stewardship Program (WRASP), was created in 1997 to offer government agencies the other side of the story, a second opinion from the regulated community. The primary goal of WRASP was to provide farmers with options based on sound, scientific data that would do two things: improve water quality while increasing producer profitability. Since inception, the program has continued to demonstrate the national significance of improving water quality in Missouri watersheds. WRASP now serves as a shinning example of how working together to protect and restore our nation's water can achieve environmental progress that will benefit all Americans and increase farm profitability for producers.
The WRASP initiative founded by Missouri Corn to improve water quality, recently received national recognition at the White House Conference on Cooperative Conservation in St. Louis. Convened by the White House Council on Environmental Quality, the WRASP initiative was among 37 conservation projects nationwide highlighted at the conference.
For any questions regarding water quality or other environmental programs, contact Environmental Consultant Darrick Steen.